Current version: 0.20.x
Current version: 1.20.0
Current version: 1.38.0.0
Current version: 0.10.0.5
Current version: 1.5.2
Current version: 0.3.0
Current version: 0.3.0

Current Version: 1.23.0
3D Graphics Search Engine:
Demoniak3D
Real Time 3D Development Tool
**************
GeeXLab, the successor of Demoniak3D is available
More information and downloads:
GeeXLab homepage
**************
Demoniak3D is a tool designed to help developers and technical artists quickly create and prototype realtime 3D solutions: demos, benchmarks, little applications or games. It's also a fantastic tool to start and learn real time 3D programming.
Demoniak3D uses a clever mixture of XML, LUA scripting and GLSL (OpenGL Shading Language). Demoniak3D's 3D engine uses OpenGL for hardware graphics acceleration.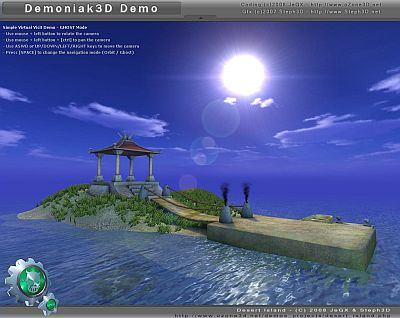 [Desert Island Demo]