April 29th, 2008 Posted in
Demoniak3D
,
News
Demoniak3D 1.23.0 is available. This version fixes the watermark bug in the player that comes with the PRO version.
In the news side, Demoniak3D 1.23.0 adds the support of LuaFileSystem that makes it possible to manage the directories of Windows file system.
Useful to scan a full directory (with its sub directories) in order to read some data files. Some new LUA functions have been added to the VBQuad management.
For more detail, here is the full changelog:
New: added new Lua lib for dealing with directories: LuaFileSystem 1.4.0.
You can use this lib via the lfs object. For example to get the current dir,
just write cur_dir = lfs.currentdir().
New: added new functions to deal with VBQuad in HYP_Mesh lib: VBQuad_Create(), VBQuad_Destroy(), VBQuad_SetQuadVertexUV() and VBQuad_GetQuadVertexUV() (see here).
New: added calculator element in demoniak3d-config.xml in order to specify the full path
to your favorite calculator program (see here).
New: added new attribute to scene node: use_window_offset. If you set it to FALSE,
you can reload a scene without affecting the window position (see here).
Bugfix: watermark was always displayed in Demoniak3D_Player.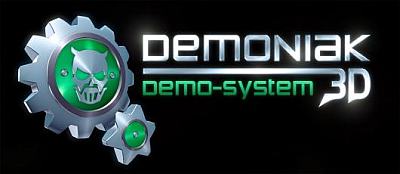 Links:
- Download Page