April 29th, 2008 Posted in
Demoniak3D
,
News
Demoniak3D 1.23.0 est disponible. Cette version corrige le bug du watermark du player Demoniak3D de la version PRO.
Du coté des nouveautés, Demoniak3D 1.23.0 supporte la lib LuaFileSystem qui permet de gérer les répertoires du système de fichiers de Windows. Pratique
par exemple pour parcourir une arborescence de fichiers de données. Quelques nouvelles fonctions LUA ont été ajoutées pour la gestion des VBQuads.
Pour plus de détails, voilà le changelog complet:
New: added new Lua lib for dealing with directories: LuaFileSystem 1.4.0.
You can use this lib via the lfs object. For example to get the current dir,
just write cur_dir = lfs.currentdir().
New: added new functions to deal with VBQuad in HYP_Mesh lib: VBQuad_Create(), VBQuad_Destroy(), VBQuad_SetQuadVertexUV() and VBQuad_GetQuadVertexUV() (see here).
New: added calculator element in demoniak3d-config.xml in order to specify the full path
to your favorite calculator program (see here).
New: added new attribute to scene node: use_window_offset. If you set it to FALSE,
you can reload a scene without affecting the window position (see here).
Bugfix: watermark was always displayed in Demoniak3D_Player.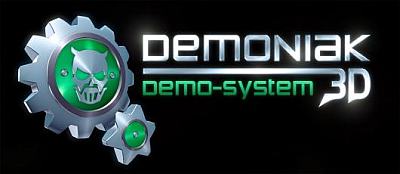 Links:
- Download Page